Radon Testing & Radon Mitigation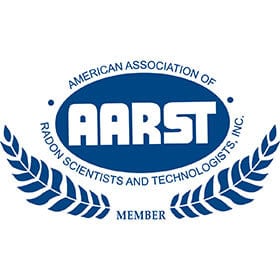 Radon is a radioactive gas that is linked to cancer, and this is why Radon testing for your O'Fallon or St. Louis area home is so important. Radon is odorless, you can not physically see it, however, it may be in your home. The only way to know for sure is to have a radon test done. At Quacker's we offer radon testing and radon mitigation or removal systems for homeowners all over the greater St. Louis area.
Radon comes from the natural (radioactive) breakdown of uranium in soil, rock and water and gets into the air you breathe. Radon can be found all over the U.S. and can get into any type of building, including homes, offices and schools. Since your family spends a great deal of time inside of your home the home environment is typically your greatest risk factor. Radon typically moves up through the ground to the air above and into your home through cracks and other holes in the foundation. Radon conditions vary depending upon the land your home was built on, see the chart from the EPA about radon levels in Missouri. The radon professionals from Quacker's Waterproofing and Basement Repair are certified from the National Environmental Health Association – National Radon Proficiency Program (NAHA-NRPP). We offer both radon testing and radon mitigation.
Testing For Radon In St. Louis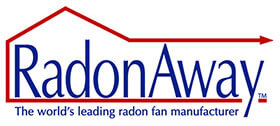 You can and should have testing for radon in your St. Louis area home. Testing is the only way to know if you and your family are at risk from radon. EPA and the Surgeon General recommend testing all homes below the third floor for radon. EPA also suggests testing in school buildings. The amount of radon in the air is measured in "picocuries per liter of air," or "pCi/L". There are many kinds of "do it yourself" test kits available, or you can have Quacker's do it for you! We are NRPP certified in radon testing and mitigation.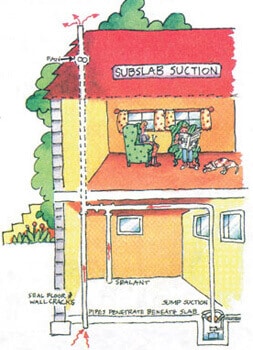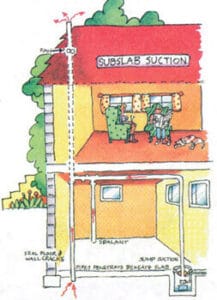 Testing is the first step in determining an effective radon plan. Millions of Americans have already tested their homes for radon, and we can help you test yours. If radon is found in your home or office, there are some relatively simple ways to reduce the radon to safe and acceptable levels. The average indoor radon level is estimated to be about 1.3 pCi/L, and about .4 pCi/L of radon is normally found in the outside air. The U.S. Congress has set a long-term goal that indoor radon levels be no more than outdoor levels. While this goal is not yet technologically achievable in all cases, most homes today can be reduced to 2 pCi/L or below. Sometimes short-term tests are less definitive about whether or not your home is above 4 pCi/L.
This can happen when your results are close to 4 pCi/L. For example, if the average of your two short-term test results is 4.1 pCi/L, there is about a 50% chance that your year-round average is somewhat below 4 pCi/L. However, EPA believes that any radon exposure carries some risk – no level of radon is safe. Even radon levels below 4 pCi/L pose some risk, and reduce your risk of lung cancer by lowering your radon level. If your living patterns change and you begin occupying a lower level of your home (such as basement) you should retest your home on that level.
Radon mitigation refers back to the process that a homeowner may take to reduce and eliminate the existence of radon gases inside their home. At Quacker's we use a continuous radon monitor in order to measure radon levels.
Radon Mitigation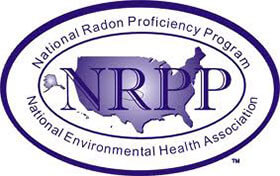 Since there is no known safe level of radon, there can always be some risk, and this is why radon mitigation is needed. But the risk can be reduced by lowering the radon level in your home. A variety of methods are used to reduce radon in your home. In some cases, sealing cracks in floors and walls may help to reduce radon. In other cases, simple systems using pipes and fans may be used to reduce radon. Such systems are called "Sub-slab depressurization," and do not require major changes to your home. These systems remove radon gas from below the concrete floor and the foundation before it can enter the home and are often installed when we are installing basement waterproofing systems. Similar systems can also be installed in houses with crawl spaces. Radon contractors use other methods that may also work. The right system will depend partly on the design and structure of your house. The cost of making repairs to reduce radon depends on how your home was built and the extent of the radon problem. Most homes can be fixed for a very reasonable cost, especially in light of the peace of mind it will bring you knowing your family is safe and the air you breathe is at a radon level the EPA considers acceptable.
This can be achieved in a number of different ways. Depending on how much radon your house has, various removal techniques and products can be us. One thing we do that many St. Louis area radon mitigation firms typically do not do is we conduct an on-site premise visit to be sure we have a full understanding of what work needs to be done and how the system would be installed most effectively and cost efficiently. All of our findings are discussed with the homeowner during the inspection process. We feel it is important for our customers to be educated and know what all their options are with this serious subject matter.
Radon removal systems will involve setting up a sub-slab depressurization system, this moves the majority of the radon gas into the mitigation system and minimizes radon from getting in your living area. This kind of radon mitigation system in an existing house requires creating a suction pit under the slab. We then connect the pit to schedule 40 PVC piping. A fan is positioned in one end of the system and will be utilized to suck air from below the slab and vent the soil gas to the outside above the roof eve.
Call Quacker's to schedule an appointment and inspection.